RAM Kingston DDR2 1 GB 800 MHz – KVR800D2N6/1G
The Name Kingston in the world of the operative memory something yes signify! All that famous as a rule, expensive, considered today us memory Kingston KVR800D2N6/1G also cost(stand)s several cherish available minimum - approximately 16-17$ for plank with 1 Gb For comparison, the price on such memory beside us begin ~ 11$ - most often memory Zeppelin, but that and Transcend, PQI, Samsung.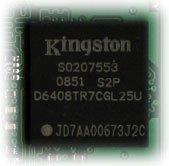 Outwardly this memory as memory, realy that several non-standard on height she less, in the sense of charge itself.
The Chips to memories are unsoldered with both sides, the whole their 16 pieces. On face side you see the usual sticker with instruction of the producer, models, volume etc. In that place warranty stickers
About name. The Memory officially is identified KVR800D2N6/1G, but Everest or same CPU-Z write in name following - Kingston 99U5429-003.A00LF. But name KVR800D2N6/1G is decipherred so: Kingston ValueRAM, 800 MHz, DDR2, Non-ECC (finding mistake no), CAS Latency 6 (from area timing), volume of the module 1 GB

The Memory works at voltage of the feeding 1,8 volts, time of the sample (the response) 2,5 ns this real 400 and efficient 800 MHz.
The Producer gives on this memory life warranty Lifetime exception form France, Germany and Austria, that warranty is given for 10 years. About our country nothing not known, therefore and warranty to me on KVR800D2N6/1G give whole 1 year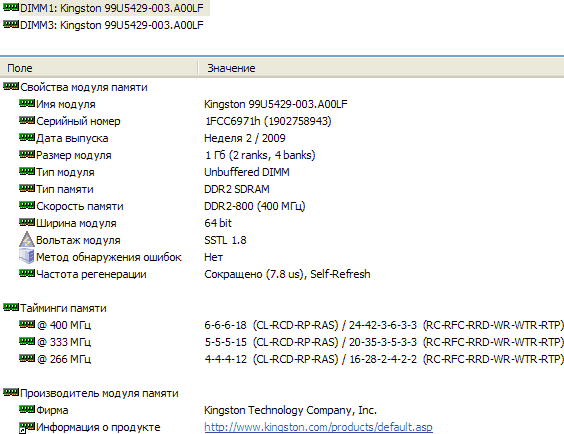 We Put the memory and particularly not tightenning, dispell the test. The Results either as was expected memory works in the same way well, either as other known and not much RAM with the same frequency and timings. Reading from memory 6391 Mb/with (6610 Mb/with); Record in memory 5671 Mb/with (5675 Mb); Copying in memories 5822 Mb/with (5943 Mb/with); The Delay to memories 78,8 ns (75,8) ns.
Testing was produced on standard timing 6-6-6-18 corresponding to 400 MHz, on PC with processor Core 2 Duo E7400 2.8 GHz, maternal charge MSI P45 Neo-F, rest not essence it is important. Parenthetically specified results under exposed timing manually 5-5-5-15, without overckockin tricks and on standard voltage of the feeding.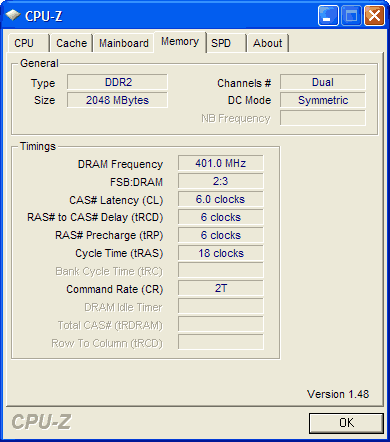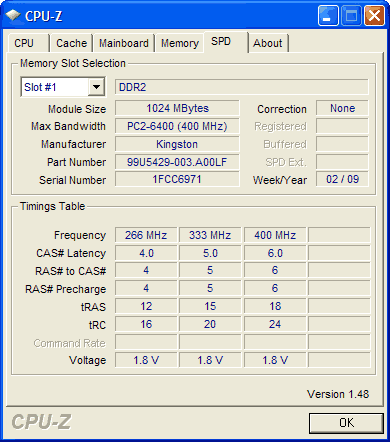 So, what possible do the findings? The Memory Kingston KVR800D2N6/1G pertains to standard, possible say the budgetary half computer ferric. Cost(stand)s she trace cherish accustomed not road, but but then from famous producer. That this we give? On essences nothing. Since much many cheap modules to memories to advantage work at such smaller timing, in the same way, either as KVR800D2N6/1G bear certain runaway, but cost(stand) more cheaply and зачастую has a life warranty. Remains only only to hope on quality, here Kingston one of first.
Mikhail Dmitriyenko, Almaty, 2009