Philips/NXP SAA7130HL PCI video broadcast decoder
SAA7130HL PCI video broadcast decoder
General description
The SAA7130HL is a single chip solution to digitize and decode video, and capture it through the PCI-bus.
Special means are incorporated to maintain the synchronization of audio to video. The device offers versatile peripheral interfaces (GPIO) that support various extended applications, e.g. analog audio pass-through for loopback cable to the sound card, or capture of DTV and DVB transport streams, such as Vestigial Side Band (VSB), Orthogonal Frequency Division Multiplexing (OFDM) and Quadrature Amplitude Modulation (QAM) decoded digital television standards.
Introduction
The PCI video broadcast decoder SAA7130HL is a highly integrated, low cost and solid foundation for TV capture in the PC, for analog TV and digital video broadcast. The various multimedia data types are transported over the PCI-bus by bus-master-write, to optimally exploit the streaming capabilities of a modern host-based system. Legacy requirements are also taken care of. The SAA7130HL meets the requirements of PC design guides 98/99 and 2001 and is PCI 2.2 and Advanced Configuration and Power Interface (ACPI) compliant.
The analog video is sampled by 9-bit ADCs, decoded by a multi-line adaptive comb filter and scaled horizontally, vertically and by field rate. Multiple video output formats (YUV and RGB) are available, including packed and planar, gamma-compensated or black-stretched.
Audio is routed as an analog signal via the loopback cable to the sound card.
The SAA7130HL provides a versatile peripheral interface to support system extensions, e.g. MPEG encoding for time-shift viewing, or DSP applications for audio enhancements.
The channel decoder for digital video broadcast reception (ATSC or DVB) can re-use the integrated video ADCs.
The Transport Stream (TS) is collected by a tailored interface and pumped through the PCI-bus to the system memory in well-defined buffer structures. Various internal events, or peripheral status information, can be enabled as an interrupt on the PCI-bus.
Overview of TV decoders with PCI bridge
A TV decoder family with PCI interfacing has been created to support worldwide TV broadcasting. The pin compatibility of these TV decoders offers the opportunity to support different TV broadcast standards with one PCB layout.
Related documents
This document describes the functionality and characteristics of the SAA7130HL
Other documents related to the SAA7130HL are:
User manual SAA7130HL/34HL, describing the programmability
Application note SAA7130HL/34HL, pointing out recommendations for system implementation
Demonstration and reference boards, including description, schematics, etc.:
Proteus-Pro: TV capture PCI card for analog TV (standards: B/G, I, D/K and L/L')
Europe: hybrid DVB-T and analog TV capture PCI card for European broadcasting
Data sheets of other devices referred to in this document, e.g:
TDA8961: DTV channel decoder
TD1316: ATV+DVB-T tuner
TDA10045: DVB channel receiver
TDA9886: analog IF-PLL
TDA9889: digital IF-PLL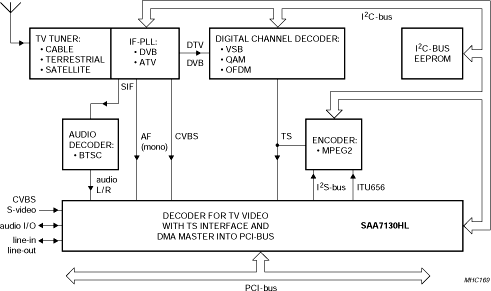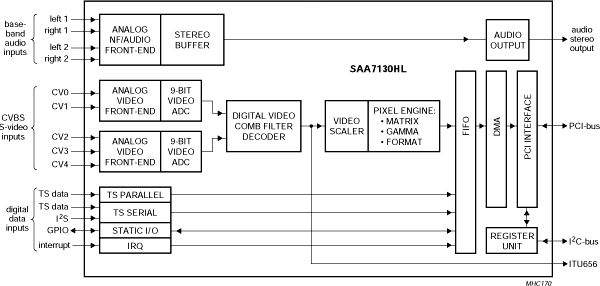 Features
PCI and DMA bus mastering
PCI 2.2 compliant including full Advanced Configuration and Power Interface (ACPI)
System vendor ID, etc. via EEPROM
Hardware support for virtual addressing by MMU
DMA bus master write for video, VBI and TS
Configurable PCI FIFOs, graceful overflow
Packed and planar video formats, overlay clipping
TV video decoder and video scaling
All-standards TV decoder: NTSC, PAL and SECAM
Five analog video inputs: CVBS and S-videoo
Video digitizing by two 9-bit ADCs at 27 MHz
Sampling according ITU-R BT.601 with 720 pixels/line
Adaptive comb filter for NTSC and PAL, also operating for non-standard signals
Automatic TV standard detection
Three level Macrovision copy protection detection according to Macrovision detect specification revision 1
Control of brightness, contrast, saturation and hue
Versatile filter bandwidth selection
Horizontal and vertical downscaling or zoom
Adaptive anti-alias filtering
Capture of raw VBI samples
Two alternating settings for active video scaling
Output in YUV and RGB
Gamma compensation, black stretching
TV audio I/O
Integrated analog audio pass-through for analog audio loopback cable to sound card
Peripheral interface
I2C-bus master interface: 3.3 V and 5 V
Digital video output: ITU and VIP formats
TS input: serial or parallel
General purpose I/O, e.g. for strapping and interrupt
Propagate reset and ACPI state D3-hot
General
Package: LQFP128
Power supply: 3.3 V only
Power consumption of typical application: 1 W
Standby state (D3-hot): < 0.02 W
All interface signals 5 V tolerant
Reference designs available
SDK for Windows (98, 2000 and XP) and Windows Driver Model (WDM)
Михаил Дмитриенко, Алма-Ата, 2008